Port Jefferson, with a population of 7,750, is on Port Jefferson Harbor, an inlet of the Long Island Sound. It is on the north shore of Long Island, about 65 miles east of New York City. Port Jefferson has numerous facilities that are critical not only to the village, but also to all of central Long Island, including St. Charles and John T. Mather Memorial Hospitals, school water supplies and wastewater treatment facilities, and various government offices. The town also boasts a thriving commercial district with grocery stores, service stations, and pharmacies that are vital to the community.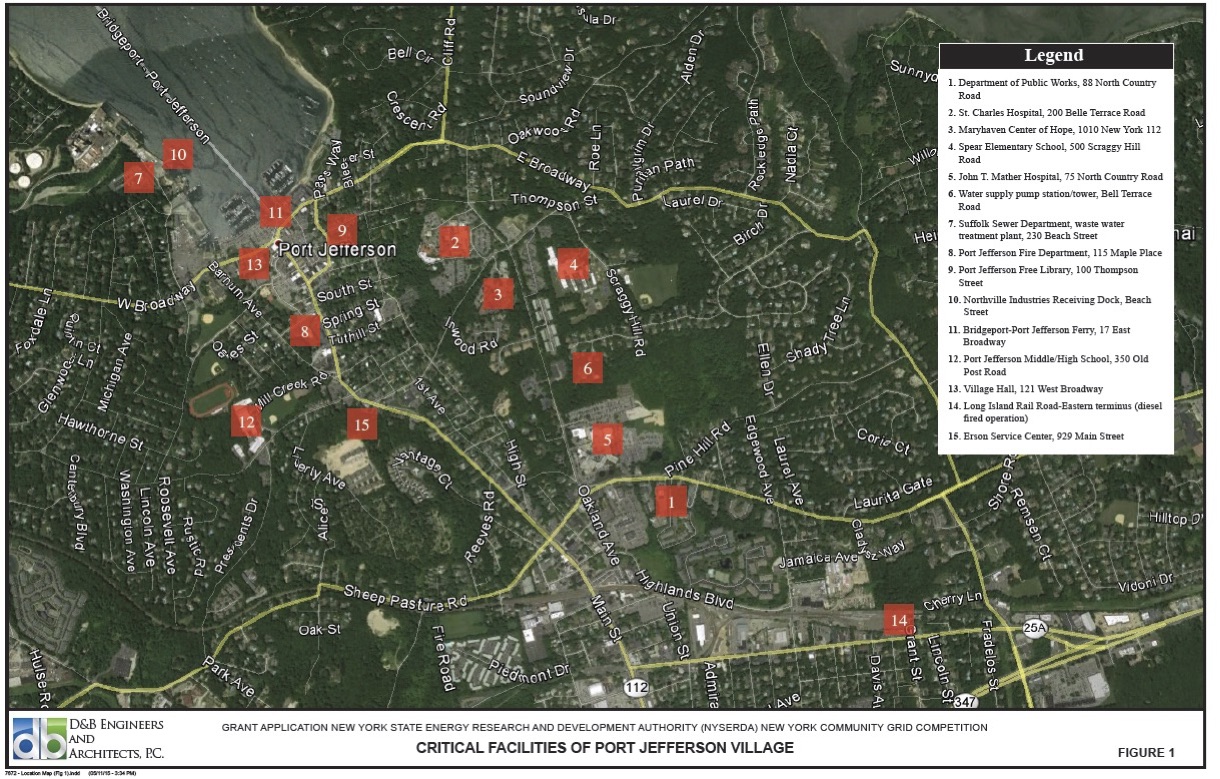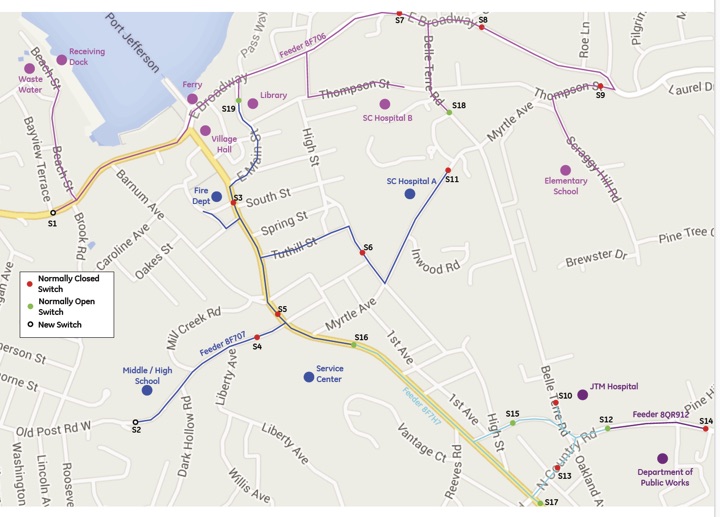 Outline of Community Needs
Port Jefferson has experienced widespread and extended power outages from extreme weather events, including Hurricanes Sandy and Irene as well as other storms. St. Charles Hospital, a regional hospital with 231 beds, lost grid power for 10 days following Hurricane Irene. Mather Hospital, which has 248 beds, lost power for 47 hours following Hurricane Sandy. Although Mather has a backup generator, it cannot power diagnostic equipment, cooling, or water chillers. The area has also experienced significant bulk-system outages, such as the Northeastern Blackout in August 2003.
Loads and Distributed Energy Resources (DER's)
Global Common defined the scope of the microgrid to encompass the critical facilities and other commercial establishments important to the community that could be cost-effectively included. We intend to use the existing distribution system to achieve this. The peak coincident load is 7,676 kW, which includes critical facilities and about 2,353 kW for small commercial establishments and residences.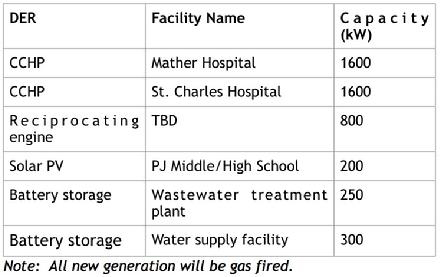 Project Goals
The goals of this project are twofold. It should be profitable during normal times and assure a reliable source of power during grid outages.
Project Benefits
|  Stakeholder | Project Benefits |
| --- | --- |
| St. Charles & Mather Hospitals | Reduce electric energy costs by 15 to 25 percent |
| NA | Reduce or eliminate peak demand charges; currently at $22/kWh from June to Sept. |
| NA | Reduce fuel use for heating by 135,000 MMBTUs per year |
| NA | Improve energy reliability and resiliency |
| NA | No capital investment |
| Other Critical Facilities & Commercial Establishments | Reduce electric energy costs by 10 to 15 percent |
| NA | Provide reliable power supply during macrogrid outages |
| NA | Maintain services for customers and the community during outages to the macrogrid |
| NA | Earn revenue from business operations during power outages to the macrogrid |
| NA | Reduce or eliminate peak demand charges for water supply and wastewater treatment plants |
| Village of Port Jefferson | Maintain services provided by critical and non-critical facilities |
| NA | Maintain power for critical government activities during power outages on the macrogrid |
| Environment | Reduce air emissions by using more efficient CHP technology to supply electric and thermal energy |